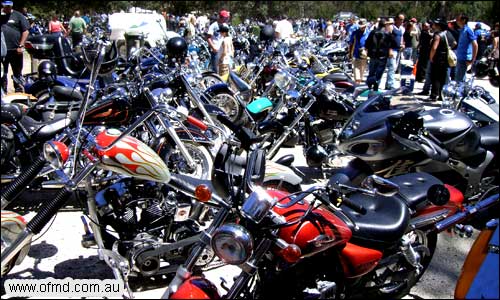 In some areas you could be mistaken for thinking it was a bike show, but really, this was the annual Macedon Ranges & District Motor Club "Picnic at Hanging Rock". And the photo only shows part of the bike section. It's a big event.
We rolled up dead on official Moke time (OK, even for Moke time, we were bloody late). We patrolled the grounds looking for the rest of the Moke crew. It took ages, strolling up and down isle after isle of wonderful motor vehicles, but eventually we stumbled on a pile of different coloured Mokes. They had decided, the heat of the day required parking under shelter of some trees and close to facilities (one of the dunnies). By the time we had found them, we were just in time to see everybody packing up and getting ready to leave.
All in all, it was a wonderful day. The weather was perfect and there were simply yards and yards of scrumptious old and interesting vehicles to drool over. Our picnic lunch was perfect and we met and spoke to a whole host of very pleasant people. We enjoyed ourselves.
Click here - to checkout the Moke section of the show.