As far as we are aware, this is the largest load ever recorded being towed for a substantial distance down the highway behind a Moke.
It was well in excess of 1,500kg and traveled 316km's at speeds of 100/110k. The items being towed included the following:
Steel trailer
Upright steel frame piano
Upright wooden pedal organ
Cast iron wood burning stove
Push bike
Lounge suite
Steel safe with concrete filled walls
Wooden cupboard
Cardboard boxes of books
Other assorted junk
What was most impressive was the way the Moke handled. Admittedly, it took marginally longer than normal to get up to 100/110k but once there it sat on the road extremely well and never faltered. Testimony to the short distance between rear axle and the hitch point.
Aside from the requirement to allow a reasonable distance for pulling the thing up, the Moke handled the job with absolutely no problems at all.
It did several other large loads for the same distance but this one was probably the biggest.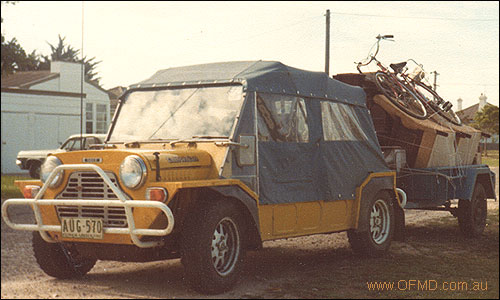 The cast iron oven and concrete/metal safe can be seen strapped to the draw bar to offset the pedal organ tied on the back of the trailer.