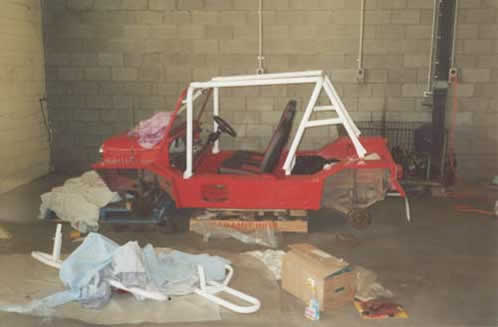 An avid Moke enthusiast has spent numerous hours in the basement of his house transforming what was previously a rather standard moke into a super machine capable of traversing almost any territory at all.
The original moke began as a 998cc model with little more than a reasonable body and little else.

A bare body cleanup and a coat of red paint soon had the Moke looking OK.

The owner did all the bar work himself, including the Californian style bumpers.

The stereo system is still a little portable. This is because it not only has to fight for space with the back seat but also because it's very handy to remove it on occasion when the going gets a little rough (Storms and mud bashing).

It still sounds pretty good considering most of the components used come from a small PA system.
But the really big transformation came about with the addition of the revolutionary air suspension system, something that has never been seen before on any other car, let alone a Moke.
Click here to see the incredible (patent pending) air suspension Moke modification.